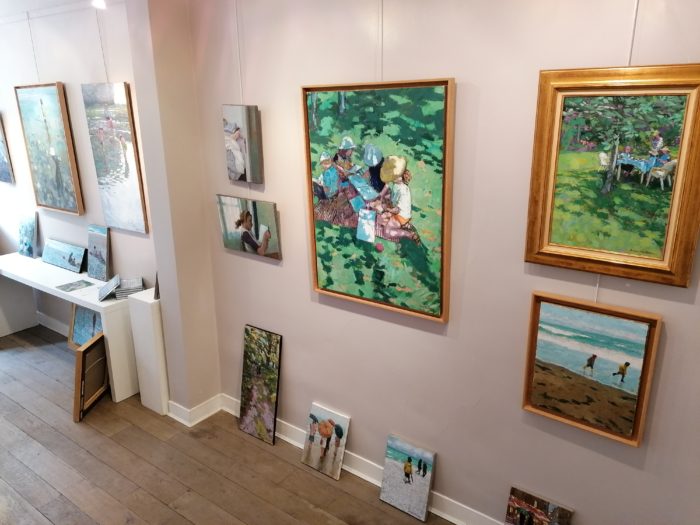 Artiste peintre
Born in 1961, James grew up in Ireland, East Anglia, Turkey and Wales. He now lives in Normandie, since 1988 and keeps close relations with the UK, Ireland and the Wales.
Permanent Exhibitions
Galerie Jamault, Galerie Alfa, Galerie Rollin, Singulart,
West Wales Arts Centre, James Wray Gallery, Barbara Stanley, London. Arz Kobalt, Paimpol.
Private Collections
France, Irlande, Grande-Bretagne, Canada, Etats-Unis, Arabie Saoudite, Japon, Suisse, Chine….
Work in Public Collections
Collection publique de la Ville du Havre
The Contemporary Arts Society of Wales
The National Library of Wales Collection
The Northern Ireland Civil Service
Collection musée de la marine Paimpol
The National Self Portrait Collection of Ireland
La Fondation Colas
Down Patrick Museum, Irlande.
Puncheston School Art collection
Awards
Médaille d'argent décernée par »The Royal Drawing Society »,
Portrait « highly commended » at National Portrait Gallery Award,
Royal Ulster Academy Perpetual Silver Medal award 'premier prix'
Past Exhibitions
2021 – Galerie Jamault Paris, Galerie 26 Paris, Galerie Arz Kobalt. Paimpol
2020 – Galerie Anagama, Versailles, Galerie 26 Paris Galerie Arz Kobalt, Paimpol.
2019 – Galerie 26 , Galerie Rollin , Artgentharius Genève
2018 – Galerie 26. Galerie Corinne le Monnier. Artgentarius Genève, Galerie Rollin
2017 – Galerie 26. Artgentharius. Galerie Rollin. Galerie Véronèse. Koywood gallery Cardiff
2016 – Galerie 26. Galerie Artgentharius, Galerie Corinne Lemonier
Exposition de groupe Chetkin Galley
2015 – Galerie 26 – galerie Rollin – west Wales Arts Centre – Galerie Ecusson –
2014 – Galerie 26 Paris – Barbara Stanley London – Heng Artland Singapore. Artgentharius Genève, galerie Corinne le Monnier
2013 – Galerie 26, Paris – Artgentharius, Genève – Barbara Stanley, London, Galerie Rollin
2012 – Galerie 26 – Artgentharius – Galerie Corinne le Monnier, Veronese
2011 – Galerie 26 – Artgentharius, Genève, – Galerie L'Hermitage le Touquet – Galerie Rollin – Galerie Veronese
2010 – Galerie 26, Paris – Kooywood Gallery Cardiff – Galerie Gantois Cannes – Galerie Corinne le Monnier – Galerie La Pléade
2009 – Galerie 26, Paris – Galerie Rollin – Galerie Veronese – Galerie La Pléade Grenoble – West Wales Arts Centre – Barbara Stanley, London,
2008 – Galerie Jamault, Versailles – The Taylor Gallery, Belfast – Galerie Alfa, Le Havre et plusieurs expositions de groupe
2007 – West Wales Art Centre – Côté Galerie, Paris – Galerie Gantois ,Cannes – Galerie Rollin, Rouen – Galerie Véronèse, Nantes et plusieurs expositions de groupe
2006 – Côté Galerie, Paris – Galerie Colette Dubois, Paris – Galerie Alfa, Le Havre et plusieurs expositions de groupe
2005 – Côté Galerie, Paris – West Wales Arts Centre – Galerie Clément, Nice – Galerie Rollin, Rouen – Galerie Véronèse, Nantes et plusieurs expositions de groupe
2004 – Bell Gallery, Belfast – Côté Galerie, Paris – West Wales Arts Centre – Galerie Colette Dubois, Paris – Galerie Alfa, Le Havre – Galerie Clément, Nice – Solomon Gallery, Dublin
Expositions de groupe : Galerie en Ré (Ile de Ré et Bois-Colombes) – Bircham Gallery, Norfolk – Arlesford Gallery, Hampshire
2003 – Côté Galerie, Paris – West Wales Arts Centre – Galerie Clément, St-Germain-en-Laye – Galerie Rollin, Rouen
Expositions de groupe : Bircham Gallery, Norfolk – Arlesford Gallery, Hampshire
2002 – Bruton Street Gallery, Londres – Côté Galerie, Paris – Bell Gallery, Belfast – Galerie Colette Dubois, Paris – Galerie Alfa, Le Havre – Galerie Clément, St-Germain-en-Laye – West Wales Arts Centre – Solomon Gallery, Dublin
2001 – Côté Galerie, Paris – West Wales Arts Centre – Galerie Rollin, Rouen
2000 – Galerie Colette Dubois, Paris – Bell Gallery, Belfast – Côté Galerie, Paris – Galerie Alfa, Le Havre – Solomon Gallery, Dublin
Exposition de groupe, Bruton Street Gallery, Londres
1999 – West Wales Arts Centre – Côté Galerie, Paris – Galerie Rollin, Rouen
Expositions de groupe : Galerie Colette Dubois, Paris – Solomon Gallery, Dublin – Galerie Alfa, Le Havre – Bruton Street Gallery, Londres – Galerie Rollin, Rouen – Galerie Sepia, Hong-Kong
1998 – Galerie Colette Dubois, Paris – Galerie Alfa, Le Havre – Bell Gallery, Belfast
Expositions de groupe : Galerie Alfa, Le Havre – West Wales Arts Centre – Bell Gallery, Belfast – Bank Street Gallery, Seven Oaks – Galerie Colette Dubois, Paris – Solomon Gallery, Dublin – Galerie Rollin, Rouen
1997 – West Wales Arts Centre – Bell Gallery, Belfast – Galerie Rollin, Rouen
Expositions de groupe : Galerie Colette Dubois, Paris – Solomon Gallery, Dublin – Galerie Alfa, Le Havre – Bank Street Gallery, Seven Oaks – Galerie Rollin, Rouen
1996 – Galerie Alfa, Le Havre
Expositions de groupe : Galerie Alfa – West Wales Arts Centre – Bell Gallery, Belfast – Bank Street Gallery, Seven Oaks – Galerie Rollin, Rouen
1995 – Galerie Rollin, Rouen
Expositions de groupe : Galerie Maig Davaud, Paris – Mistral Gallery, Londres – Adams Gallery, Bath – West Wales Arts Centre, Fishguard
1994 – Galerie Alfa, Le Havre
Expositions de groupe : Mistral Gallery, Londres – Galerie Rollin, Rouen
1993 – Mistral Gallery, Londres – Galerie Rollin, Rouen
1992 – Galerie 13, Paris (tableaux exposés jusqu'en 1996.) – Eakins Gallery, Belfast
1991 – Phoenix Gallery, Suffolk – Highgate Gallery, Londres
Exposition de groupe à l' Eakins Gallery, Belfast
1990 – Exposition de groupe à la Galerie Rollin, Rouen
Trois Générations à la Highgate Gallery, Londres puis à la Phoenix Gallery, Suffolk,
Eakins Gallery, Belfast, Mistral Gallery, Londres
1989 – Highgate Gallery, Londres
Phoenix Gallery, Suffolk
1988 – Phoenix Gallery, Suffolk
1987 – Fermoy Arts Centre, Norfolk – Phoenix Gallery, Suffolk
Œuvres exposées au salon 'Eight British Artists`à Kingston Upon Thames.
1986 – Œuvre exposée par la Linfield Gallery au Bath Festival.
Œuvre exposée au Welsh National Eisteddfod
1985 – Sessions Gallery, Newport, Pembrokeshire
Œuvre exposée au Mid Wales Show
1984 – Second Norfolk show, œuvre exposée à la Phoenix Gallery, Suffolk
1983 – Flask Gallery, Norfolk
1982 – Grant Gallery, Irlande du Nord
1981 – Portrait « highly commended » à la National Portrait Gallery
1980 – Grant Gallery, Irlande du Nord
1977 – Exposition de groupe, Caldwell Gallery, Belfast
Silver Star Award à la Royal Drawing Society, Children's Academy
Galerie de James MACKEOWN